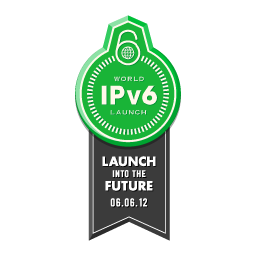 World IPv6 Launch takes place today, 6 June 2012, marking a key milestone in the development of the Internet. Major Internet Service Providers (ISPs), manufacturers and content providers around the world are coming together to permanently enable IPv6 for their products and services.
AIMES has recently implemented IPv6 on all core networks within our data centres (including our website: www.aimesgridservices.com), enabling our clients to deploy IPv6 on their own systems.
If you are planning to implement IPv6 within your organisation or for your hosted services, we can help with planning and implementation – contact us for more information.
For more about IPv6, see RIPE. AIMES is supporting World IPv6 Launch and the RIPE NCC IPv6 Act Now campaign.
What is World IPv6 Launch?
Organised by the Internet Society, World IPv6 Launch is intended to motivate organisations across the industry to prepare for and permanently enable Internet Protocol version 6 (IPv6) on their products and services as Internet Protocol version 4 (IPv4) address space runs out.